* You can now receive Bob's Blog via email daily!
Click here to subscribe
Welcome to

Bob Larson's Spiritual Freedom Church

Ministry Update!
11 EXORCISMS AND LITTLE RELIEF.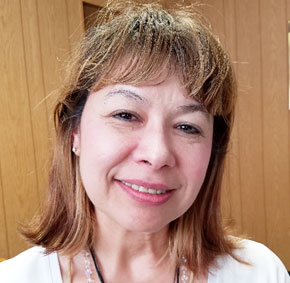 Tina, all smiles after her Personal Encounter session.
Tina was Catholic so it was natural for her to seek help in her church. A series of priests
attempted to exorcise her demons
, but after
11 exorcisms there was little relief
. They may have
meant well, but they all encountered the same
road block: a demon calling itself "Reuben
."
Tina found me on the internet and scheduled a one-on-one Personal Encounter
. Using the
principles in my book "Dealing with Demons" (Order your copy by CLICKING HERE.), I was able,
with the Lord's help, to unravel the mystery of Reuben.
What no other deliverance ministers understood is that a demon usually takes a human name
only if there is a curse related to an actual person with that name.
During our Encounter, I
traced back through Tina's bloodline a web of evil to ancient Spain. An ancestor of Tina had
seduced a priest named Reuben. The child of that union bore "the curse of Reuben." I knew
then that the real name of Tina's demon was Jezebel! (Read my book "Jezebel" about how this
demon works to destroy men and women of God. To order CLICK HERE.)
After Tina was delivered, she declared, "I want to become a minister of healing. I had a vision of
Jesus as a child and always knew He wanted me to help others. With my husband we can now
be a team to bring Christ's healing and deliverance."
One more day, one more Encounter, another intervention of God's grace. Friends who
support us with tithes and offering make possible such amazing miracles of spiritual freedom.
Thank you for being a partner today to set God's people free.
To give your best gift TODAY CLICK HERE or call 303-980-1511.
Schedule a one-on-one Encounter today by CLICKING HERE
or calling 303-980-1511.
---

Episode 46:

How can you tell the difference between mental illness and demons?

An individual who is mentally challenged may be in that condition for several reasons. Their disorder may be the direct result of demonic activity, or demons may have exploited a pre-existing psychological problem. Most times, the road to recovery involves both medical assistance as well as spiritual healing.

CLICK HERE TO WATCH EPISODE 46 NOW
Have a question you would like to see answered?
International School of Exorcism®

Pastors told me that Christians can't have a demon.
I wanted to get my questions answered, so I sought Bob's teachings.
Now I know that it's happening and I am seeing it.
I GOT MY QUESTIONS ANSWERED SO GOD CAN USE ME!
Join today before our enrollment costs go up in a few months.
Detailed, accompanying study guide — 30 dynamic Courses on video.
MONEY AN ISSUE? Put it on payments with PayPal Bill Me Later
Call today for details 303-980-1511.
Available on Android and iOS. Stream on your computer,
iPhone, iPad, any smartphone or any mobile device.
IF YOU MISSED LAST WEEK…
8,284,106 views – 23,469 subscribers – 234 Videos!
ONE WOMAN HAS JEZEBEL, ASHTORETH, AND LILITH!
Two years ago in Ukraine, Bob exorcised the demon Mammon from Inna.
Now she's back, this time manifesting Jezebel, Ashtoreth, and Lilith!
Bob forces Lilith to bow and admit that Eve is the mother of humanity.
Curses are broken on Inna's young daughter named Venus.
NEW EXORCISM VIDEO EVERY OTHER WEEK!