* You can now receive Bob's Blog via email daily!
Click here to subscribe
Welcome to

Bob Larson's Spiritual Freedom Church

Ministry Update!
GO WHERE YOUR GIFT IS CELEBRATED!
Portion of the hundreds who came forward for deliverance during our last Ukraine mission.
Some years ago, while talking with a respected pastor, I lamented how our ministry of
deliverance is not well-received in America. He gave me some great advice: GO WHERE
YOUR GIFT IS CELEBRATED! I have taken that wisdom to heart many times
That's one reason I've scheduled nearly a

dozen missions to Europe and Russian

in recent years.
Over there, we teach inner healing and exorcism to

many thousands of people

who are
enthusiastically receptive. They want deliverance, and they want to give it to others.
This week I leave for Ukraine. I'll speak an entire week to a conference of hundreds of pastors,
plus their wives and church staffs. The presiding Bishop who organized this gathering told me,
"I'm inviting you because you teach us how to set people free. We've discovered that
demonstrating deliverance is the best way to convert people in this part of the world. Unlike
America, people here want to see the gospel demonstrated with power. Then they get saved."
It's difficult to leave my family and the needs of our ministry. We depend on a deep spiritual
bond for Laura and I to keep our marriage and children strong during these times. And we
depend upon our faithful friends who give tithes and offerings to keep our ministry strong.
As I heed the Lord's call to go where our gift is celebrated, I thank you for praying and giving so
that an entire generation of pastors will be raised up to set the captives free.
To give your best gift TODAY CLICK HERE or call 303-980-1511.
---

Episode 48:

I have been abused and practiced the occult . . . do I have demons?

There are many potential signs of demonic possession, physically, emotionally, and spiritually. Certain individuals have personal trauma and occult involvement, both of which may lead to demonization. In addition, if a parent has cursed a child, that almost always leads to severe spiritual bondage.

CLICK HERE TO WATCH EPISODE 48 NOW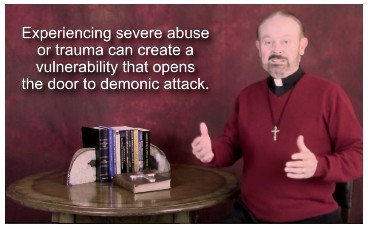 Have a question you would like to see answered?
International School of Exorcism®

*Krista proudly displays her Certificate of Completion
I had an Encounter with Bob & saw Satan at work in my life.
I wanted to learn how to intercede for myself & my family.
I want Christ to occupy all the areas of my heart.
I ACQUIRED HIDDEN TREASURES OF CHRISTIANITY!
Join today before our enrollment costs go up in a few months.
Detailed, accompanying study guide — 30 dynamic Courses on video.
MONEY AN ISSUE? Put it on payments with PayPal Bill Me Later
Call today for details 303-980-1511.
Available on Android and iOS. Stream on your computer,
iPhone, iPad, any smartphone or any mobile device.
---
192 Pages of All-New information.
Special Bob's Blog Price – JUST $15
Know if it's the world, the flesh, or DEMONS!
Discover what everyday choices open the door to demons.
---
IF YOU MISSED LAST WEEK…
8,415,589 views – 24,003 subscribers – 237 Videos!
A DEMONIC TATTOO RESULTS IN A VIOLENT EXORCISM!
A new Christian now, Dmitry had been a drug addict for over 20 years.
He didn't realize that a demonic spider tattoo was an opening for demons.
The demon was named Anathema, meaning "cursed."
NEW EXORCISM VIDEO EVERY OTHER WEEK!