* You can now receive Bob's Blog via email daily!
Click here to subscribe
Welcome to

Bob Larson's Spiritual Freedom Church

Ministry Update!
THE WHOLE WORLD IS WATCHING!
Bob with Los Angeles radio personality, JoJo Wright.
If you don't live in Los Angeles, you may not recognize the man in the photo. JoJo Wright is on one of
the
most-listened-to people in America
. He airs in KIIS-FM.,
rated 4th out of nearly 50 stations
in Los
Angeles. Recently, he invited me into his studio for a
lengthy, in-depth interview
about demons and
exorcism.
Excerpts of the interview will air before, and on, the date of October 31, Halloween
.
JoJo
even asked to personally witness an exorcism the next time I'm in the area.
More than 8 million viewers on YouTube; 50 million potential readers of our recent "People"
magazine article; now millions more in L. A. will hear our message of freedom through Jesus Christ.
We don't hire pricey publicists to create media opportunities. This is the Lord's doing.
We are so humbled. Other than Billy Graham, there's never been a ministry in America with the
secular media exposure we've had, especially in so many diverse places. God has opened so many doors.
Quite literally, the whole world is watching lives being delivered and transformed. All this happens
because of our friends whose support makes it possible with their tithes and offerings. If you are one of
them, thank you so much. If you aren't, join our mission today and be blessed knowing that the world is
witnessing the spiritual fruit of this ministry.
To give your best gift TODAY CLICK HERE or call 303-980-1511.
---
IF YOU MISSED LAST WEEK…

Episode 48:

I have been abused and practiced the occult . . . do I have demons?

There are many potential signs of demonic possession, physically, emotionally, and spiritually. Certain individuals have personal trauma and occult involvement, both of which may lead to demonization. In addition, if a parent has cursed a child, that almost always leads to severe spiritual bondage.

CLICK HERE TO WATCH EPISODE 48 NOW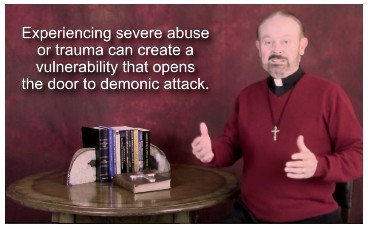 Have a question you would like to see answered?
International School of Exorcism® Alumnus

I am angry at the devil for what he's done in my life.
I'm excited about knowing how to defeat the enemy.
This is my way to get back at him.
I FEEL VERY MUCH CALLED TO DO THIS!
Join today before our enrollment costs go up in a few months.
Detailed, accompanying study guide — 30 dynamic Courses on video.
MONEY AN ISSUE? Put it on payments with PayPal Bill Me Later
Call today for details 303-980-1511.
Available on Android and iOS. Stream on your computer,
iPhone, iPad, any smartphone or any mobile device.
---
192 Pages of All-New information.
Special Bob's Blog Price – JUST $15
Know if it's the world, the flesh, or DEMONS!
Discover what everyday choices open the door to demons. 
---
8,445,133 views – 24,050 subscribers – 238 Videos!
A CHILD HELPS BOB CAST OUT JEZEBEL & DEATH!
Jennifer was molested as a child because of a 10-generation curse.
Now, her child, cross in hand, helps Bob cast out the demons.
Bob gives Jennifer's child a hug, and the whole family rejoices.
NEW EXORCISM VIDEO EVERY OTHER WEEK!